Shred Soles Founder Nate Musson pictured above in Bear Valley California 
In 1996, I had just graduated high school and moved from a small town in Montana to the Washington D.C. Metro area. I was working with my uncle, Scott Katzman, at a ski and snowboard shop, called Ski Chalet, located near the D.C. Beltway.  
Under my uncle's tutelage, I learned to perform professional ski and snowboard boot fittings, as well as create custom insoles.
As an amateur snowboard racer, one of the technologies my uncle used to gain competitive advantage was to place a cant plate in between his snowboard bindings and board.  A cant plate is basically a wedged shape piece of plastic snowboard racers used to help leverage additional edge hold as well as realign their snowboarding posture to a more comfortable and natural position.   
One day on the commute home that we shared together, we discussed the idea of adding this canting directly underfoot to the insole, but that was all the farther we went with it at the time. 
Tim Ferriss
In 2007 I picked up a book with a catchy title, "The Four Hour Work Week (FHWW)," by Tim Ferriss. The book was an instruction manual on how to design a lifestyle business, by creating and selling products or services directly to consumers on the internet. 
I already had the seed planted for what the book called "the muse" or the product or service that I could offer (a canted snowboarding insole).  
I started to execute on the plan that Tim suggests in the book by calling potential manufactures and finding a web designer.
After hundreds of phone calls with potential manufacturers, I found a manufacturing partner that helped develop the first production-quality samples.  
Around this time, as instructed in the FHWW, I performed viability tests with Google Ads. The goal being, get traffic to the purchase page and see if it converts - even if you don't yet have a product. 
With-in a couple of days of spending a whopping five dollars a day ad spend - I had my first order! But, I didn't have any product! I contacted the potential customer and ended up sending him one of my last samples. A couple of months later, he emailed me with this unsolicited feedback: 
"After two foot surgeries, I didn't think my feet would be able to handle snowboarding, but thanks to the Shred Soles, I'm carving up the mountain. Thanks again!" - Shred Soles First Customer

Gaining his testimonial was (and still is) the best feeling! It was the exact confirmation that I needed to go full speed ahead into production and eventually launch the brand. 
Roughly two years after launch, I noticed a tweet from Tim Ferriss - asking about people that had executed a muse business by following the instructions in his book. I responded and the Shred Soles muse case study was featured on his (very high traffic) blog: 
https://tim.blog/2010/11/28/4-hour-work-week-case-studies-muse/comment-page-6/
From our launch until 2016 I ran Shred Soles as a side project. I was able to reinvest profits to add new products each season, grow the team and sponsor events - gaining grassroots market awareness. 
Skateboarding
In 2016, my wife had just finished her MBA, I had just left my full-time role in higher education financial aid software sales - the timing was perfect to level-up the brand. We decided to launch a new insole for skateboarding. Drawing on my lifetime of experience in skateboarding and the feedback from our team riders - we developed a technical insole that blended impact resistance, control, and board feel!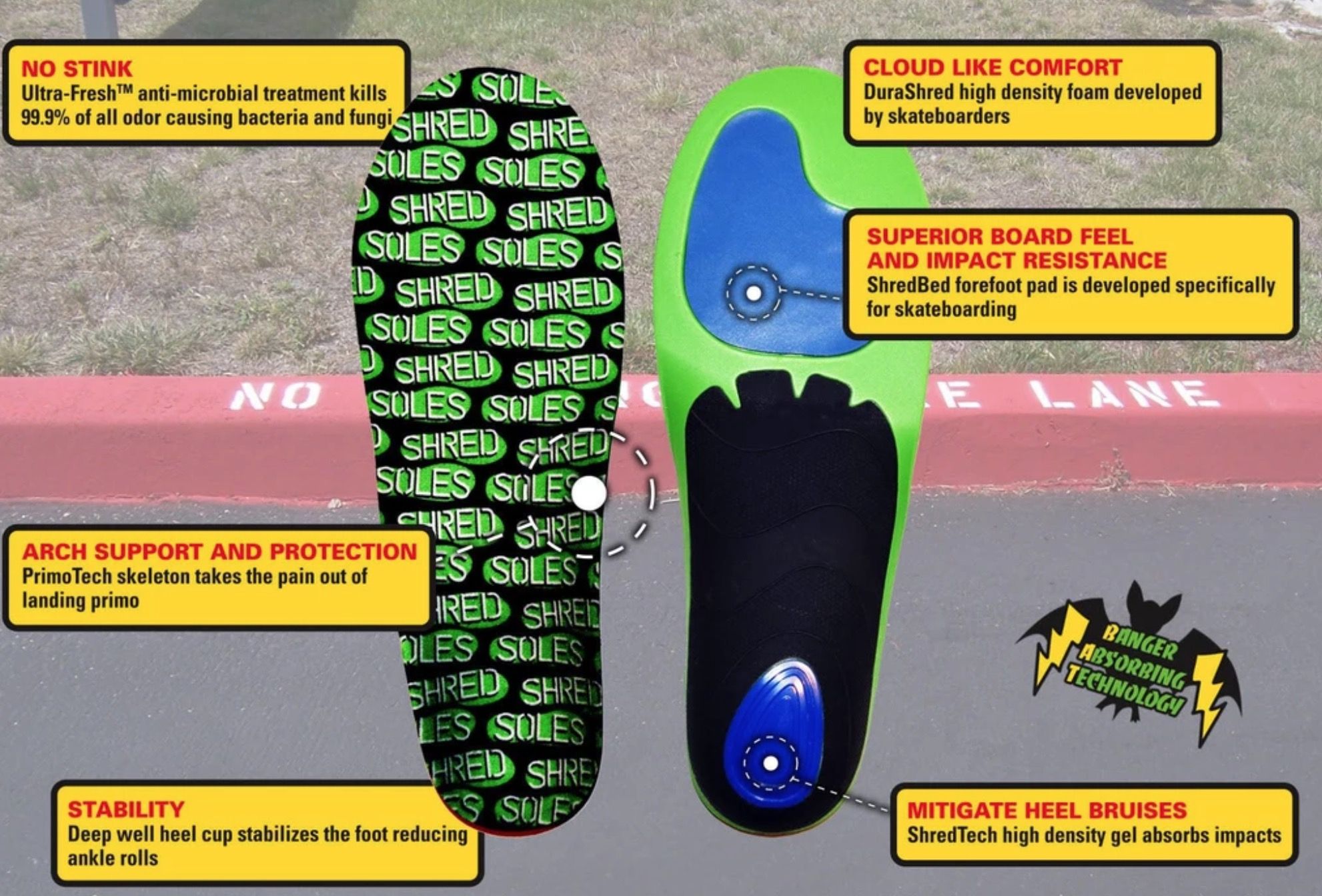 Californa 
We were headquartered next to a small resort in South Central Pennsylvania from 2008 to 2017....
The 2016/17 winter was so bad at our home mountain that the resort CLOSED in February!
This was the catalyst we needed to move the business to a more consistently snowy location closer to others in the snowboarding and skateboarding industry.  
In June of 2017, we relocated to Bear Valley (not Big Bear) California.
Bear Valley sits at 7100' in the Sierra - located just south of Lake Tahoe over a pass that's closed in the winter and spring. 
From our new location, we were able to successfully launch a ton of new products over the following 16 months!  
It's been an amazing journey so far... My heart is full of gratitude. The ability to deliver foot comfort for participants of my favorite activities is a dream come true. 
🤙
-Nate Musson 
Shred Soles Founder
Nate@shredsoles.com